The Science
behind everything
Blood tests have been around for a long time, but the results are almost always written in a way only understandable by health care practitioners.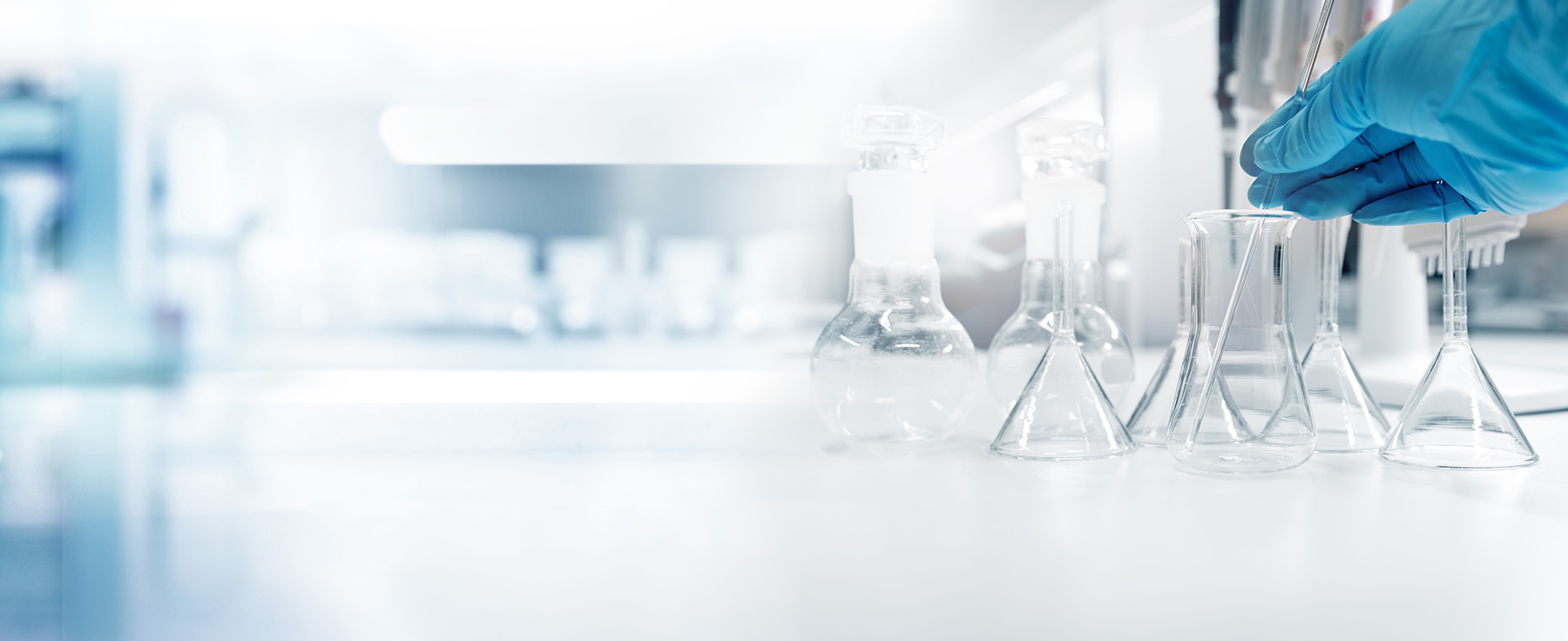 Your body is a treasure trove of indicators of your health and wellbeing called biomarkers. The Biostarks technology has three main steps to efficiently use biomarkers to provide actionable recommendations for better health and wellbeing
The Process
Mauris scelerisque scelerisque nibh, et blandit orci congue quis. Vestibulum ante ipsum primis in faucibus orci luctus et ultrices posuere cubilia curae; Mauris nec justo porttitor, vehicula mi sed, accumsan ligula. Vivamus sed dui sit amet dolor feugiat vestibulum.
Mass spectrometry allows the robust identification and quantification of molecules through their mass.
Both high resolution mass spectrometry coupled to liquid chromatography and inductively coupled plasma mass spectrometry are multiplex technologies. These allow the simultaneous analysis of a large number of molecules in a small volume of blood, without compromising the reliability of the results.
This method differs from traditional analytical assays that require a given amount of blood per biomarker, which strongly limits the number of biomarkers that can be measured.
The analysis of biomarkers by traditional laboratory technology requires a given amount of blood per biomarker, with each biomarker analyzed one at a time. Using multiplex assays allow the simultaneous measurement of numerous biomarkers, reducing both necessary sample size and analysis time.
Mass spectrometry is the king of multiplex analytical techniques because of the differentiation of the molecules based on their mass, and this simultaneously in a single analytical run.
Results remain reliable thanks to the unsurpassed sensitivity and specificity of mass spectrometry.
High resolution mass spectrometry has the additional advantage that it is very selective since it measures the exact mass of a compound, allowing even minor changes in structure to be distinguished. While the use of high resolution mass spectrometry has until now remained limited to major academic institutions, our laboratories make this technology easily available.
Another mass spectrometry analytical technique used in our laboratories is inductively coupled plasma mass spectrometry. This technique is the reference method for the analysis of metals and other elements with unsurpassed precision and sensitivity. Mass spectrometry is particularly suited for the analysis of molecules in a small volume of blood, such as dried blood obtained from a simple finger prick.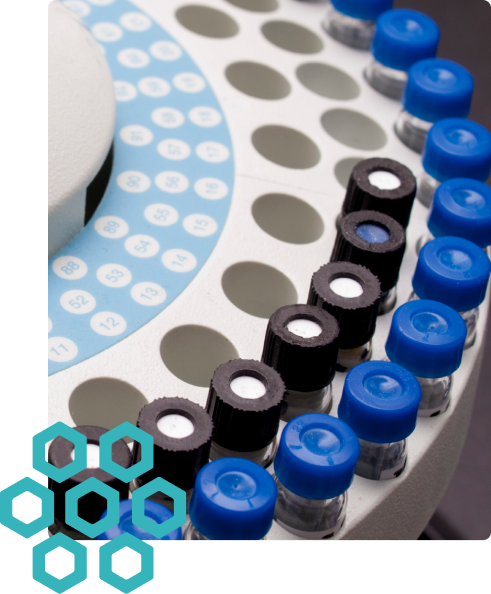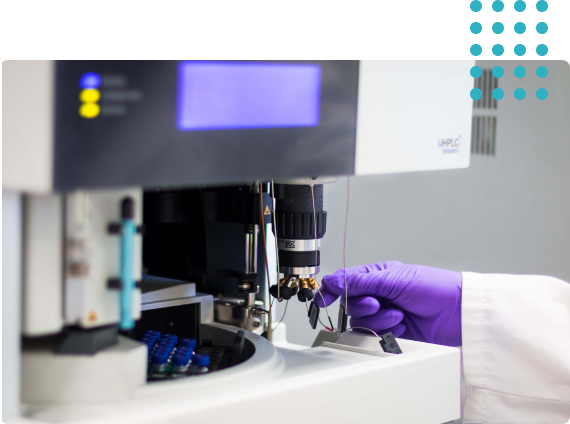 In our laboratories, we have optimized the analysis of dried blood by mass spectrometry to allow the precise and accurate measurement of thousands of molecules in just 4 drops of blood. For example, for the first time, our laboratory is able to measure a comprehensive panel of micronutrients of the 4 classes of essential micronutrients, namely vitamins, both hydrosoluble and liposoluble, minerals, fatty acids and amino acids.
To note, our panels only include biomarkers for which we can provide actionable recommendations to live a healthier life, and not quantities that just pinpoint abnormalities for which we cannot make recommendations. Our laboratories meet the most rigorous standards for reliability, stability, and validity. They participate in external quality controls to ensure reliable results that you can trust.
What to expect after your test?
Your results are delivered directly on our secure online platform accessible through your  account, in the form of actionable and easy-to-understand nutritional and training recommendations.

Your Biomarker Map
Your unique map regroups all the biomarkers included in your test, and presents your results in an easy-to-understand visual summary. The color code is a simple way to understand which biomarker levels are optimal and which ones need attention.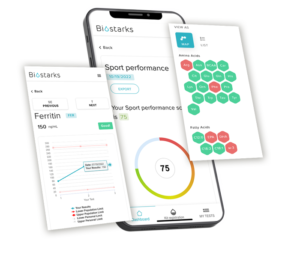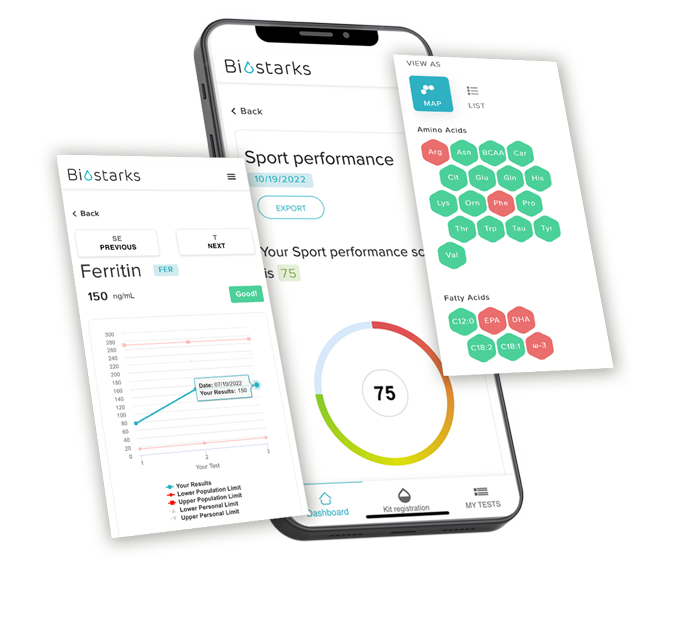 Your Score
Your result is summarized into a score, based on how many of your biomarkers are in their optimal ranges. Ideally, you want to be as close to 100 as possible. A low number is also fine, just make sure you apply our recommendations to help you raise it.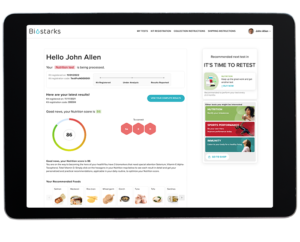 Your Biomarker Graph
You can click on any biomarker to see its specific range graph, based on your biomarker levels and how they measure against the optimal levels recommended. It evolves in the case of multiple tests, so as to help you visualize your progress and establish your individual reference ranges.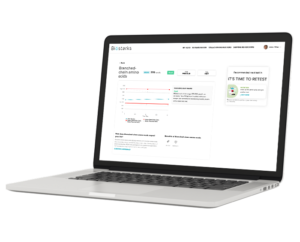 Your Recommendations
Your results come complete with personalized nutritional and training recommendations, complete with lists of foods and portions you should incorporate into your diet to help you reach the optimal level for each biomarker!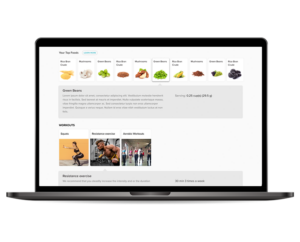 What to expect after this test?
Your results are delivered directly on our online platform accessible through your secure account, in the form of simple and easy-to-understand nutritional recommendations.
Frequently Asked Questions